CCTV Agent Security Camera Systems offers Hybrid Cloud Video Surveillance Solutions. We are honored to be an Authorized Reseller of Verkada cloud-based security products. We work together to make video security that is scalable and user-friendly for security experts and novices while being limitlessly smart. Businesses and Corporations of all sizes choose Verkada Cloud Security Cameras to bring increased awareness and surveillance to any location that is desired. Cloud security cameras are the most reliable on the market today with the redundancy of on-camera SSS (solid-state storage), while being accessible from the cloud too.
Easy Installation
No DVRs, NVRs, or servers; all you need is a PoE (power over ethernet) connection.

Verkada Security Cameras come online and configure in minutes via the cloud and powerful surveillance software that is encrypted.

Reduce installation, maintenance, and ongoing upkeep with no added software or complexities like time-consuming port forwarding.
User-Friendly
Centralized management for seamless access anywhere with any smart device, MAC, or PC with the dynamic

Command

platform that is a cloud-based solution.

No training required to access features and footage.

Explore, find, download, and share any surveillance footage from any type of device.
Key Advantages of Cloud Managed Security Solutions
Fully encrypted and secure remote access on any device from anywhere in the world.

24-7 around-the-clock real-time alerts if cameras fall offline.

Verkada products come with SAM L-based integration with single-sign-on (SSO) solutions.

Verkada delivers continuous updates with new Al features.

Instantaneously share live footage via email or SMS.

Live AI (artificial intelligence) with proactive alerts based on suspicious and unusual activity.

Heatmaps and people counting to visualize your entire environment.
From 4 Cameras to 1000, Verkada is built for scaling with ease.
Bandwidth-friendly, using 5-20 Kbps per security camera.

Scale to thousands of cameras from multiple locations across the globe.

There is zero added surveillance equipment needed to support additional security cameras.
Verkada is straight-forward with ZERO hidden costs
Verkada's industry-leading 10-year warranty for hardware is unprecedented. 

With updates that are automatic, the latest firmware keeps your system fully secure.

Enhancements and new features are automatically added with zero additional costs.
Verkada Video Security Hardware offers a wide array of form factors that are designed for any surveillance need.
Verkada Dome Security Cameras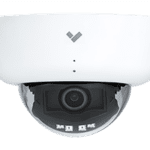 A wide array of security camera models for indoor and outdoor deployments.

Vandal-resistant form factors, including protective measures that have the highest possible penetration ratings of IK08 (indoor) and IK10/IP67 (outdoor).

Superior image resolution ranging from 2MP-4K.

24-7 around the clock with up to 365 days of onboard retention.
Verkada Bullet Security Cameras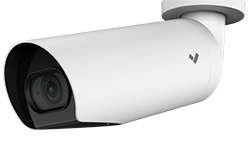 Available in telephoto and wide lens options.
The highest waterproof rating with IP67-rated hermetically sealed lens assembly,
IK10-rated CNC aluminum housing for unrivaled durability and precision.
Available in 5MP and 4K image resolutions.
Up to 365 days 24-7 onboard retention.
Verkada Mini Security Cameras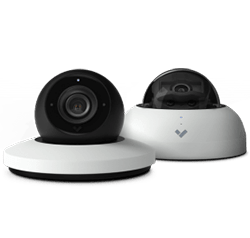 Tactful & discreet design factors for any environment.

High-resolution image quality with options for 4k and 5MP.

Up to 365 days of onboard retention.
Verkada Fisheye Security Cameras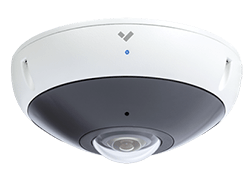 3 viewing modes: PTZ (Pan Tilt Zoom), 4-way split, and panoramic.

High-resolution surveillance image quality with 12MP.

Up to ninety days of onboard video retention.

Related Post