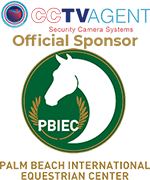 Jennifer Hannan Claims Two Top Placings in the $15,000 International Hunter Derby at WEF – Sponsor CCTV Agent specializes in Horse Riding Arena Cameras.
Wellington, Fla. – Jan. 31, 2020 – During Friday's competition at the Winter Equestrian Festival (WEF), it was the hunters that took center stage in the International Arena for the $15,000 USHJA International Hunter Derby sponsored by CCTV Agent. There were 61 horse and rider combinations that performed in hunt and go style over the 14 fence course and it was Jennifer Hannan aboard Mindful who earned the blue ribbon with a total score of 360.5 points. Samantha Schaefer and Trademark were awarded a score of 351 points for a second place finish, while Hannan also took home the third place honors with Olympic Fire.
The course was performed in the unique hunt and go style by the competitors. The rider started the course with a classic round and without stopping after the 8th fence, they continued into their handy round over fences 9 through fence 14. Each half was to be scored individually by two panels of judges and at the end, scores were combined for a total out of 400. In each half, there were two high option fences for riders to choose from to obtain extra points. While many horses produced beautiful rounds, it was Hannan and Mindful that were able to capture the eyes of both panel of judges and earned the top score.