Remote Camera Monitoring For Businesses, Residential, HOAs, Neighborhoods and Communities Of All Sizes

Deterring 97% of intruders at retail centers without human intervention by using remote camera monitoring.
Retail Strip Centers pose challenging security threats due to their back alleys, storefronts, and parking lots. Fortunately, Avigilon's security systems keep vulnerable areas safely monitored and protects the property with voice-down communication to deter criminals, notifying law enforcement when necessary. This will give your customers the protection they deserve so they can shop, eat, and have a great time in peace.
Do more than react to crime. Proactive solutions combining AI & Human Intellect
Smart Device Compatibility & Mobile App
Access to your surveillance video, metrics, and functionality from anywhere.
Dedicated Surveillance Team
Dependable 24/7 monitoring for consistent response to events within 18 seconds.
Incident Reporting & Monthly Summaries
Review links to footage and full details of when each tracked incident occurred.
Video Analytics & Dashboard
Behavioral checks will identify high traffic areas, human compliance, and job site performance for efficient management.
For more information or a free quote for remote camera monitoring contact CCTV Agent at 561-249-4511 or sales@cctvagent.com
Real-time Remote Camera Monitoring Service For Any Type of Neighborhood or Business.
Core Perks of Live Remote Camera Monitoring:
Superior Saving When Compared to Traditional Security Personnel By Themselves

With Less Security Staff You Get More Coverage

Live Virtual Security Guards Monitoring Inside and Outside

Criminal Activity is Greatly Deterred

Live Coverage From Any Type of Smart Device

Dispatch Onsite Security Personnel & Law Enforcement Immediately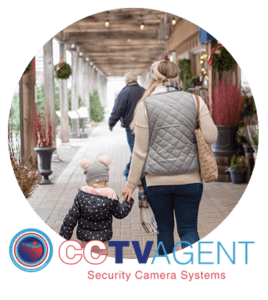 WITH REMOTE CAMERA MONITORING SECURITY PERSONNEL CAN ENFORCE POLICY AND MANAGE DAY TO DAY OPERATIONS MORE EFFICIENTLY
Having a real-time remote camera monitoring service can greatly reduce loss, vandalism, and property damage while providing detailed video records. Common uses for live video camera monitoring include:
HOAs & Private Communities

Large Commercial Properties

Auto Dealerships & Car Lots

Industrial Facilities

Storage Facilities

Warehouse Operations

Constructions Sites

Parking Lots & Garage Buildings

Commercial Loading Docks & Trucking Areas

Port Facilities

And Anywhere You Require Added Layers of Surveillance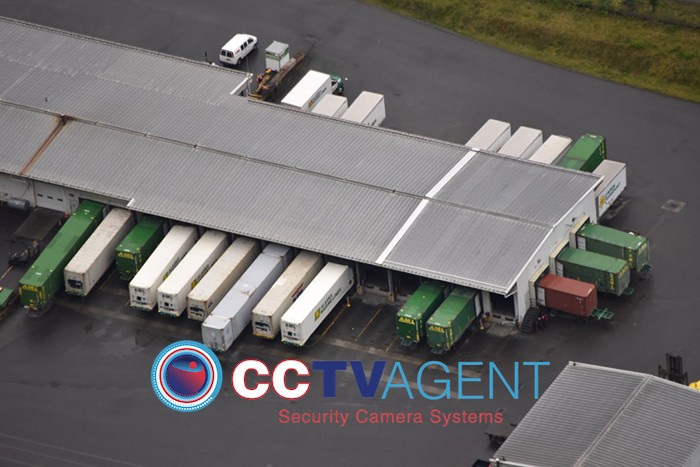 Traditional passive surveillance systems combined with remote monitoring, and physical onsite security guards provide the ultimate layer of protection. You can trust our remote camera monitoring solutions to watch any environment around the clock. There are many additional layers of security measures you can add to live video monitoring including onsite security personnel, perimeter security with advanced surveillance analytics, and smart learning AI (Artificial Intelligence).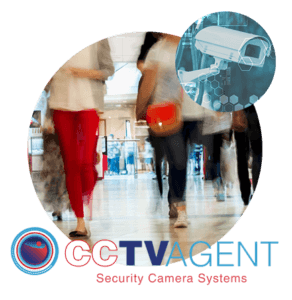 Our licensed security guards manage and monitor your premises so onsite security personnel and law enforcement can be immediately notified. Our trained security guards know what to watch for and detect vandalism, trespassing, robbery, and other serious crimes before they happen. The CCTV Agent Security Camera Systems team can also remotely manage a virtual gate guard as a replacement for costly onsite security guards. We can also surveil interior areas to stop dangerous behavior before it occurs.
Live remote camera monitoring service makes it easier to deter and detect criminal activity before it occurs and permits the ability to react immediately to suspicious activities with strobe lights and voice commands allowing onsite security and law enforcement to respond efficiently. Utilizing remote camera monitoring lets our team reduce liability and increase responsibility for protocol enforcement. Businesses and communities can ensure that compliance regulations and policies are upheld to their standards. All surveillance footage is stored, and all information is delivered in real-time directly to any of your desired security personnel, allowing you to know what's happening on your site at all times.
For more information about CCTV Agent's remote video monitoring service please contact us today and see how we can assist your business or community to be more safe, efficient, and secure. 877-523-2288
Deterring 97% of intruders at subdivisions without human intervention with remote camera monitoring.
No matter the location or the time, Avigilon surveillance can identify and respond to various events, including gates left open, illegal dumping, and unauthorized individuals. If an incident occurs near your Avigilon protected gate, you'll know about it immediately – ensuring the best subdivision security.
YOUR CCTV SYSTEM IS NOT STOPPING CRIME!
CRIME IS RISING
Unoccupied businesses have seen a 71% increase in burglary.
CCTV
Most CCTV Systems do not have the intelligence to deter crime.
SECURITY GUARDS
Costly guards can't have eyes on all areas of your property at the same time.
HOW REMOTE CAMERA MONITORING (RVM) COMPARES


RVM DETERS 97% OF ALL CRIME
RVM IN ACTION
OVERLAY AI TECHNOLOGY ON EXISTING CAMERAS INSTALLED
IP CAMERA HEALTH CHECK MONITORING

AUDIBLE DETERRENTS

ESCALATION SERVICES

UNLIMITED INCIDENTS

UNLIMITED INCIDENTS

NO ADDITIONAL CAPITAL INVESTMENTS

INSTALLATION AND MAINTENANCE
TURN KEY MOBILE UNITS
DELIVERED & SETUP

THERMAL CAMERA AVAILABLE

SOLAR POWERED

MAINTENANCE INCLUDED

MINIMUM TERM 3 MONTHS

VISUAL AND/OR AUDIBLE ALARM
For more information or a free quote for remote video monitoring contact CCTV Agent at 561-249-4511 or sales@cctvagent.com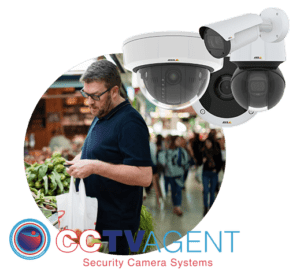 Secure your property and make sure it's protected from all threats with comprehensive perimeter security. It was not easy to achieve this level of total security protection in the past. Live remote video monitoring now integrates advanced intelligent video analytics to detect potential threats before and as they occur.
Remote guarding is becoming a preferred method to monitor commercial properties and businesses. Live remote monitoring is cheaper than hiring on-site security personnel. It combines professional security guard training with the most recent surveillance technology. Perimeter security can be implemented in a proactive way when used together with smart AI and physical security guards.
Live Remote Video Monitoring increases Perimeter Security Benefits
A video surveillance system is an essential investment for both business owners and property managers. Security cameras are highly effective when they are monitored by trained security guards. Even if you have private security guards on staff, they alone cannot monitor every inch of property in real-time.
Live remote monitoring of perimeter security is a great option.

Faster threat alerts are used to detect potential events earlier.

Advanced video analytics can spot suspicious activity that guards may not have noticed.

Increase the effectiveness of your security plan.

Monitoring is available 24/7 without any interruptions.

Audio response for active threat deterrence.

Increasing emergency response time in cases that have been verified
Another benefit of using live remote video monitoring to monitor perimeter security is the decrease in false alarms. False alarms account for the majority of alerts. Guards must verify any responses before dispatching an emergency response. Intelligent video analytics allows for faster emergency response times.
How Remote Live Video Monitoring Works
A team of security guards is stationed at a central location, away from the building or property being monitored with live remote video surveillance. While the video analytics software is processing the data, the remote guarding team can access the live security camera feeds. Remote guards are alerted to any suspicious activity and they use their professional training in order to determine the best response.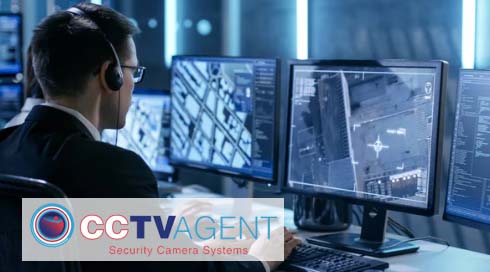 For perimeter security and surveillance in multiple industries, live remote video monitoring is common. This is a popular solution for many settings, including construction sites, parking garages, and airports, as well as apartment complexes and gated communities. For a free assessment of your live remote video monitoring options, contact CCTV Agent today.  877-523-2288
Live Remote Video Monitoring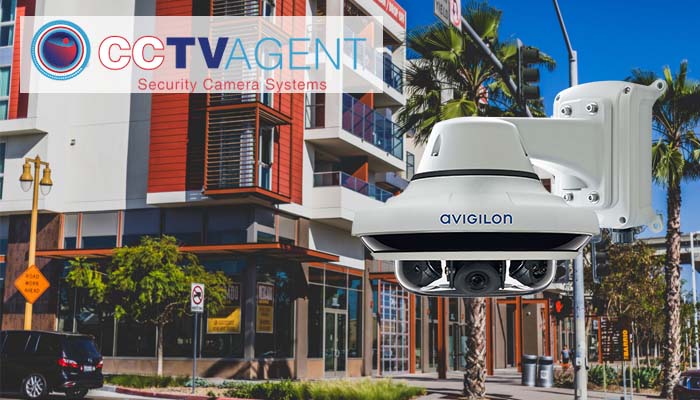 Fill out the form and will get in touch ASAP or call to speak with a remote camera monitoring expert!