Daniel Bluman Races To First In The $72,000 Joe DiMaggio Children's Health Specialty Center 1.50m Qualifier Aboard Colestina H – Sponsored by CCTV Agent offering Barn Cameras for Horses
Wellington, FL – November 29, 2019 – Daniel Bluman of Israel raced to a first-place finish aboard Colestina H, owned by Blue Star Investments & Kim Douglas, in today's $72,000 Joe DiMaggio Children's Health Specialty Center 1.50m Qualifier. The pair stopped the jump-off timers in 34.779 seconds, putting in a double-clear effort. Taking home second place was Nicole Shahinian-Simpson of Wellington, FL and Carol Rosenstein's Akuna Mattata after their 34.958-second jump-off. Michael Morrissey of Wellington, FL rode Chance Ste Hermelle, owned by Qbs Equestrian LLC, through the timers in 35.132 seconds to claim the yellow ribbon. Barn Cameras for Horses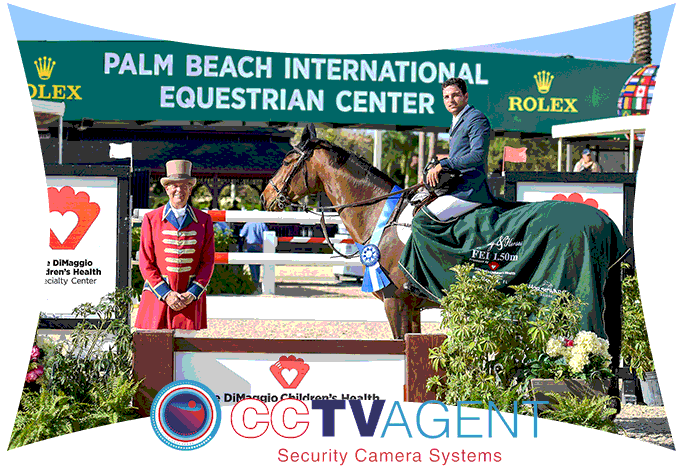 Today's 1.50m track, set by FEI designer Anthony D'ambrosia, challenged a total of fifty-three competitors. Fourteen pairs returned for the jump-off, while six completed the tracks double-clear. "It was a nice round. I thought it was a good number of people in the jump-off," commented Daniel Bluman after his win. "Honestly, the most important thing is that the footing is amazing. We're so happy to have nice footing, it's pleasurable for the horses, safe for us, and honestly we're just very grateful. It makes a huge difference. It makes the show a different quality and you can feel the excitement of everyone around." Bluman revealed that he will be riding his 16-year-old mare, Sancha LS in the Saturday night Grand Prix.
Jumper Highlights
Earlier this morning, Ashley Vogel of Mequon, WI and her entry, Thalie D'Anjou were named champion of the Equiline Medium Junior/Amateur Owner Jumper 1.30m class after a 32.667-second performance in the International Arena. Close behind at 33.637 seconds was Sophia Studd of Wellington, FL aboard her mount, Hera-V, while Kelsey Cruiciotti of Bluffdale, UT clinched third with Pony Lane Farm's New Girl after a 33.762-second jump-off.
The Equiline High Junior/Amateur Owner Jumper 1.40m class was bested by Anna Beth Athey of Enid, OK and her Cantero Da Lagoa once they crossed through the timers in 31.393 seconds. Vanessa Hood of Wellington, FL took home both the red and yellow ribbons, piloting Take Two LLC's Fairytale 86 in 32.017 seconds and Take Two LLC's Gentille Van Spieveld in 32.294 seconds.
Shane Sweetnam of Ireland captured the blue ribbon in the $1,000 CCTV Agent 1.40m class with Sweet Oak Farm's Zandora Z after a 60.93-second performance, while Jonas Vervoort of Belgium and Cicomein VDL, owned by HKC Collection LLC, finished in 61.59 seconds to claim second place. Freddie Vasquez of Puerto Rico rode Dontez, owned by G6 Holdings & Freddie Vasquez, to third in 62.16 seconds.
The $10,000 Premier Equestrian Open Stake 1.40m named Tanimara Macari of Mexico and Feminka champion after they completed the jump-off in just 34.145 seconds. Taking home second-place honors was Venezuelan Luis Larrazabal with Luminary LS La Silla, owned by San Francisco Stables, LLC, once they stopped the timers at 34.26 seconds in the jump-off. Alberto Michan piloted Wolver Hollow's entry, Ictus D'Emma to third after a 35.699-second performance.
Camryn Halley of Oviedo, FL piloted Ashland Farms' Canago to first in the WIHS Jumper Phase presented by Score At The Top in the Mogavero Ring this afternoon with a total score of 78. Clinching second place was Layla Kurbanov of Greenwich, CT and her mount Calderon B after receiving a total score of 75, while Texie Loyd of Windermere, FL collected a final score of 73 to take third-place honors aboard Carly Hoft's Cashman.
Tiffany Morrissey Claims Top Honors With Sebastian In The $10,000 USHJA National Hunter Derby Presented by #1 Education Place
Tiffany Morrissey of Wellington, FL claimed top honors with Stacey Shore Werner's Sebastian in the $10,000 USHJA National Hunter Derby presented by #1 Education Place, achieving a total score of 177.5 after two impressive rounds. Jennifer Bliss of Loxahatchee, FL was close behind, putting in a final score of 177 with Harris Hill Farm, LLC's Face The Music. The early class leader, Sydney Shulman of Greenwich, CT took home third place after a beautiful performance aboard No Doubt, owned by Elizabeth Phillips, and receiving a final score of 176.5. Shulman and No Doubt were also received the "Best Turned Out Award" presented by Enviro Pet.
"In the first round, I always try to do what's best for him and hope for a good score," stated Morrissey after her win. "Then Jen Bliss went in for the Handy round and got a very high score, so I knew I had to go in and pull out all the stops and jump all the bigger options. It was kind of a 'go big or go home' move!"
Morrissey has been riding the 8-year-old for several years now: "His owner, Stacey rides him in the Low Adults and I get to do him once in awhile. He was good last week, really in the groove, and then great again this week. Before that, he actually hadn't shown with me since last year's WCHR week when he was champion in his 3'3″ Performance Hunter division. So he's doing really good and we're excited to compete at WEF, maybe chase some derbies!" Barn Cameras for Horses
The ESP Holiday Series began on November 27, and will continue through the new year until January 5, 2020. Click here to view the 2019 ESP Holiday Series Prize List. This week's Holiday & Horses show will feature the season's first Saturday night Grand Prix on November 30, with the $209,000 Holiday & Horses Grand Prix CSI 4* presented by Palm Beach County Sports Commission. Spectator gates open at 5:00 p.m. and the competition begins at 6:45 p.m. The event offers free general admission and parking, as well as VIP hospitality seating in the International Club. Click here to purchase hospitality tickets. The class's live-stream, presented by Yellowstone, will be available at PBIEC.com. Barn Cameras for Horses
Barn Cameras for Horses
More info on Equestrian Security Cameras
Related Post