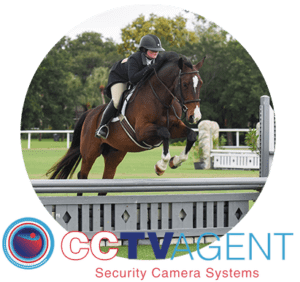 If you need any type of Horse Stable Security Cameras, call CCTV Agent who specializes in equestrian security cameras. Have you considered installing Security Cameras for Barns to monitor your equestrian facility? If you need to watch your security cameras in real-time we have the equestrian monitoring solutions for your barn, paddocks, riding arena, or for perimeter security. From any smart device (phone, tablet, or PC) you can monitor your barn and horses around the clock. Call CCTV Agent today for an initial surveillance consultation on how to best protect your horses and facility. 877-523-2288
Keri Kampsen and Dress Blue in the $2,500 USHJA National Hunter Derby, Presented by CCTV Agent
Wellington, FL – October 24, 2021 – It was a very competitive $2,500 USHJA National Hunter Derby, presented by CCTV Agent, on Friday of the ESP Fall II show. The class concluded after two impressive rounds of riding with only three points between the top three finishers, but the lead spot in the victory gallop ultimately went to Keri Kampsen of Wellington, FL, and Wyndmont's Dress Blue, at only five years old, with a total score of 173 points.
Keri Kampsen and Dress Blue, pictured with Lexy Reed and Tatiana Yaques, CEO of CCTV Agent. ©Carly Nasznic Photography
The ESP Fall II show concluded on Sunday and will be followed by the ESP Fall III show, which will run from October 28-31 as the fourth of seven events in the ESP Fall Series. Hunter competitors will continue to have derby and division options through the ESP Pre-Charity CSI3*, which runs from November 17-21, ahead of the ESP Holiday Series.
"He is five years old, almost six. I think this is his seventh or eighth show ever. He has come a long way," commented Kampsen. "I showed him in some of the Young Hunters during the Winter Equestrian Festival, but he has mostly hung out this summer. This is our first show back together. He has a great brain and never looks at a jump. This morning in the Performance 3'3" Hunters was the first handy or trot jump I have ever done on him, so I was actually happily surprised at how well he followed me through the turns."
Following the first round of riding, Kampsen and Dress Blue sat at the top of the standings with an initial score of 85, but the next two challengers were hot on their heels. Xavier Gomez of Wellington, FL, rode Jordan Hill's Diadem Von Der Heide to second in the rankings with 84 points, trailed by Cecelia Perry of Boynton Beach, FL, and her own Icadello with a score of 83. In the end, the final standings at the conclusion of the class remained the same as those after the classic round, although each of the top-three duos significantly improved upon their earlier scores. Kampsen and Dress Blue earned 88 points to win the class with a total of 173, and Gomez and Diadem Von Der Heide were awarded second place with 172 points, having also earned an 88 in the handy round. Perry and Icadello earned 87 points in the handy to conclude the class as the final podium pair with 170 cumulative points.
"The course designer Andy [Christiansen] always does such a nice job about giving us options, so that's why I love doing these derbies with my younger horses," remarked Kampsen. "There were crazy inside turns for seasoned horses, but I just wanted to have a nice round and a positive learning experience with my horse, so we were able to be a bit more conservative. We were tidy and in the end, I think it came down to jumping style."
The ESP Fall Series added a new derby option to the weekly schedule in the form of the $1,000 Equestrian Team Apparel 2'6″-2'9″ Hunter Derby, which is an ideal option for young horses or new derby contenders. The class took place Saturday morning and ended with a close race for the top three as only seven points separated the three podium finishers. In first place, thanks to a final score of 164, Dominique Gonzalez of Ocala, FL, rode Ingo De Kavalrie, owned by T.M. Hills Farm International Corp., to victory. The pair earned 76 points in the classic round, which put them in third place, but rallied in the handy phase to earn 99 points and jump to the top of the leaderboard. Khari Taustin-Kas of Berlin, MD, and her own Cassera finished in the reserve position with 162 total points, followed by Philippa Ammann of Detroit, MI, on Ammann Equestrian LLC's Tiggertastic with a cumulative tally of 157.
Dominique Gonzalez and Ingo De Kalvarie won the  $1,000 Equestrian Team Apparel 2'6″-2'9″ Hunter Derby. ©ESP
The Low Children's/Adult Hunter division, presented by Santa Cruz Animal Health, saw Kylie Elias of Boca Raton, FL, take top call with Anna Duff's Birthday Boy. The pair won four out of the division's five classes. Isabella Dean of Boynton Beach, FL, piloted her own Butterfly Flash to reserve champion honors after receiving a first, three second-place finishes, and a third over the course of the division's five classes. 
In addition to her derby placing, Perry made a clean sweep in the Junior Hunter 3'3" 15 & Under division, presented by #1 Education Place, taking both champion and reserve champion honors. Perry rode her Icadello to three top placings and two second-place finishes to place them at the top of the division's scorecard. She and her other entry, Glasgow, captured reserve champion honors after earning two blue ribbons, a red ribbon, and two yellow ribbons. 
Photo credit ©ESP and ©Carly Nasznic Photography. These photos may only be used once in relation to this press release with proper credit.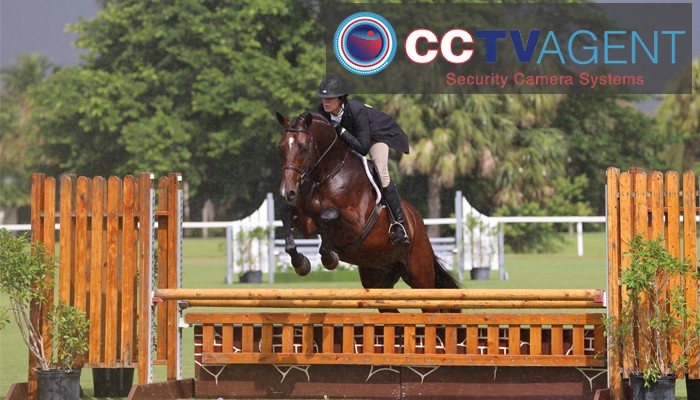 If you need any type of Horse Stable Security Cameras, call CCTV Agent who specializes in equestrian security cameras. 877-523-2288
Horse Stable Security Cameras

Related Posts 
Long Range Wireless Barn Cameras