Security Camera Installation Jupiter FL
Professional Security Camera Consultants
CCTV Agent offers an array of security solutions to serve the staggering number of industries that make their home in Jupiter Fl. Whether you need to install security cameras at your retail headquarters or at the site of your down-home neighborhood seafood restaurant, we've got you covered!
Security Cameras for Business
At CCTV Agent, we feature high quality IP security camera systems from the best manufacturers in the business.
View a Live Feed from your Smart Phone
One of the most convenient benefits of IP surveillance is that you can view your live camera feed from your smartphone or tablet device, giving you the freedom and peace of mind to go anywhere without losing sight of your business.
You can learn more about mobile surveillance by contacting one of our IP video experts right now. Our commercial-grade IP security camera systems are weather resistant and UL certified, and can go toe-to-toe with the weather challenges faced by Jupiter Fl and South Florida.
Weather-Proof Camera Systems
All of our outdoor weather-proof cameras are capable of withstanding rain, fog, and humidity, as well as our extreme heat.
Some of the security camera systems we install are:
Uniview camera dealer

Indoor Camera Systems

Outdoor Camera Systems

Security Cameras for Apartment Buildings

Security Cameras for Warehouses

Security Cameras for Retail Shops

Camera Systems for Government Applications

Wireless Camera Systems

IP Camera Networks

CCTV Cameras
Residential and Commercial Camera System Installation
We at CCTV Agent are experts in designing residential security camera systems for HOA's, condominiums and other large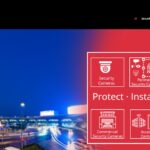 communities. We have expert sales engineers who can customize the perfect camera system for your HOA, condominium, large multi-family property or apartment building.
From wide-view dome cameras to long-range bullet cameras, we'll install the best cameras to protect your property and give you video recording that is a useful tool.   Our security camera systems offer high-definition night-vision cameras to provide you with clear images both day and night.
Custom Security Camera Monitoring for Car Dealerships
A security camera system is an essential tool for car dealerships. We can set up pan-tilt-zoom cameras in your car lots and various fixed cameras throughout the showroom and service areas to monitory all key aspects of car dealerships. If you have multiple locations, CCTV Agent can configure your system so that you can monitor all of your operations from one location.
Monitor Warehouse Security Cameras from Anywhere
Ideally you want to be present at your business operations at all times. While that is not physically possible, having a well-designed security camera system in your warehouse operations can provide you with the 24 hour monitoring and oversight that you seek. In addition to 24 hour monitoring, you will be able to use your video for safety and productivity training as well.
Remote Monitoring of Security Cameras

The main reason people get high-quality surveillance cameras today, is to give them the ability to monitor their property or business remotely. At CCTV Agent, we give you surveillance in the palm of your hands. As long as you have a reliable internet connection, you will be able to view your security cameras from anywhere in the World on your smartphone, tablet, or computer.
Smart Phone Camera Viewing
Everyone wants to be able to do everything from our smart phones. That's just the kind of world we live in. Our security camera systems come with a no-fee app that is user friendly and allows you to monitor your security cameras from your smartphone no matter where you are.
Tablet and Computer Viewing
We can also help you set up your tablet or computer to view your camera system. You will even be able to create a custom layout of the camera views you desire, and set alert or notifications settings to your preference.
CCTV Agent prides itself on providing state-of-the-art security cameras systems and the most professional, courteous and experienced installation and technology team. Call us today to see how we can help you protect what you value the most.
We install Security Camera Systems in these Palm Beach County cities:
West Palm Beach, Boca Raton, Boynton Beach, Delray Beach, Jupiter, Lake Harbor, Lake Worth, Loxahatchee, North Palm Beach, Palm Beach, Palm Beach Gardens, South Bay, and Wellington.
We install Security Camera Systems in the following Zip Code areas in Palm Beach County:
33401   33402   33403   33404   33405   33406   33407   33409   33411   33412   33413   33415   33416   33417   33419   33420   33422   33427   33428   33429   33431   33432   33433   33434   33464   33481   33486   33487   33488   33496   33497   33498   33499   33424   33425   33426   33435   33436   33437   33472   33473   33474   33444   33445   33446   33448   33482   33483   33484   33458   33468   33469   33477   33478   33459   33449   33460   33461   33462   33463   33465   33466   33467   33470   33408   33410   33418   33414   33493   33480