Retail Security Cameras
CCTV Agent has extensive experience in providing security camera systems for retail establishments. We understand the many threats retail establishments face, including shoplifting, employee theft, flash rob theft, and even organized retail crime. Most retail businesses are in large open plazas or malls with multiple levels of shops along with storage and delivery areas. Retail businesses present a unique challenge for security. A strategically placed high-resolution security camera system will help to enhance security by providing continuous monitoring of key parts of the retail operation.
Only the Highest Quality Retail Security Camera Systems for Retail Businesses
CCTV Agent only sells premium security camera products and provides premium support to our retail customers. Our security cameras have state-of-the-art IP technology with high resolution and night vision so that you will always have a window into your operations, day or night. Low-cost cameras are not rugged and often come with outdated software and low-quality images. Our camera systems provide exceptional quality images. They are waterproof and highly rated for outdoor or indoor use and are durable enough to hold up in any demanding environment.
Our software application is user-friendly and we provide excellent live customer support.

Some of the benefits that a security camera system provides for retail establishments include:
Deters shoplifting, vandalism, and other criminal acts

Decreasing liability

Intrusion detection

Increases safety for customers and staff

Parking lot monitoring

Provides an effective tool for monitoring daily operations

Ensures staff are meeting safety and customer service standards

Allows for remote monitoring from a smartphone, tablet or computer

Prevents intruders from gaining access to restricted areas

Increases customer service

Deters improper employee behavior

Reduces business liability from frivolous lawsuits
Reliable Surveillance Camera Systems for Retail Shops
CCTV Agent has the skill set to deliver an innovative and dependable security camera system to customers within the retail industry. We are well versed in the day-to-day security threats faced by retail operations and have the experience to design solutions to monitor threats like theft, vandalism, crime, and more while also ensuring public and employee safety.
At CCTV Agent, we provide a generous suite of services to our customers. We provide an extensive site security audit, camera location evaluation, configuration and installation support, and virtual integration to deliver the best results. Count on us to meet your retail operation's unique security needs.
Every day, as a manager or owner of a retail shop, there are hundreds of decisions you need to make. It is easy to ignore the things that aren't immediately apparent, such as inventory loss due to shrinkage or security issues at the store during working hours or overnight. If you have any questions about Retail Security Camera Systems, call CCTV Agent today. 877-523-2288
Professional commercial-grade security cameras are a necessity for any business. Security cameras are ideal for retail shops and stores along with any environment that conducts monetary transactions. We have worked closely with 1000s of customers in Florida to keep their premises safe, including small businesses, universities, cities, states, and government agencies.
You can find out more about security cameras for any retail store by calling CCTV Agent at 877-523-2288. Speak with a security camera specialist to discuss designing your custom surveillance solutions today.
Superior video quality

Remote viewing is as easy as possible via any internet-enabled smartphone or tablet

Unlimited surveillance system access remotely

Installation with minimal disruption to day to day operations

Industry-leading surveillance  equipment warranties

Tech support in the USA for the life of the security product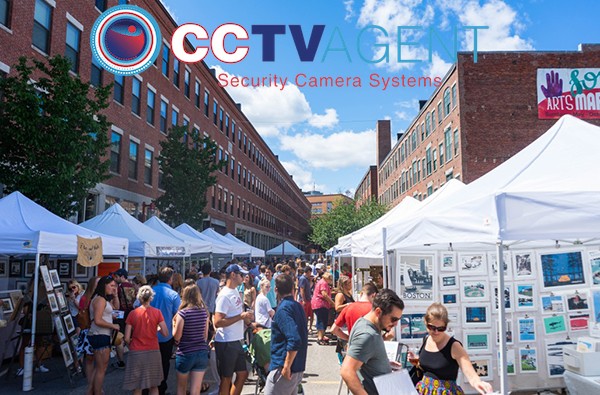 Customized Security Camera Systems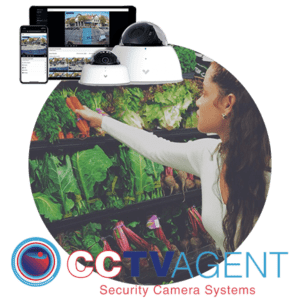 We can design and customize the best security camera system to fit your retail store, no matter the size of the area that needs to be covered. Our network-capable cameras allow you to view your footage from any location around the globe, even when you aren't there. You can view live video from anywhere with user-friendly software and mobile apps.
We can configure your security cameras to send alerts automatically when motion is detected 24/7 or when other types of events happen in your store. You can follow all the actions from when customers enter your store to when they approach the POS or walk around the store. 
Do you need commercial-grade security cameras to protect your store? CCTV Agent offers complete security camera systems to businesses of any size. We can install our surveillance systems which will protect your property around the clock. We custom build and design the surveillance system for your store.
Looking for the best security camera system to protect your retail store? You can learn more by calling us at 877-523-2288. We will provide assistance in choosing the right surveillance system to fit your needs.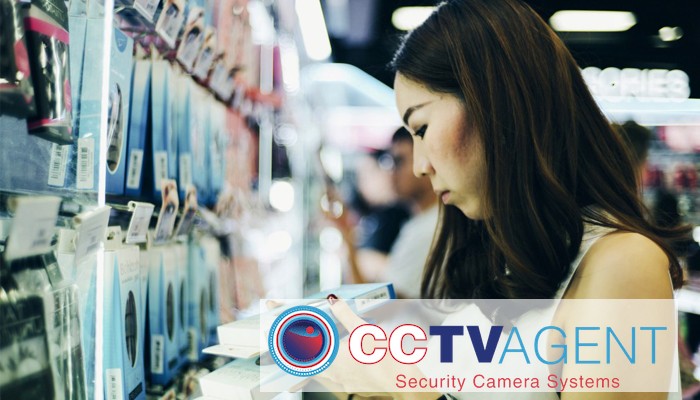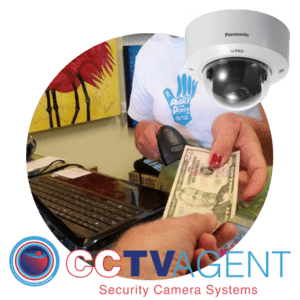 Retail Security Cameras | Retailers lose billions each year due to shoplifting and employee theft. As a security solution, investing in IP video surveillance cameras can provide many long-term benefits, such as decreased retail shrinkage, increased store profits, lower insurance rates, and a decrease in theft cases. Having security cameras creates a more welcoming environment in the store for customers and deters criminal activity.
There are many new technologies available for IP cameras these days, so it is important to assess the security requirements of your retail store. Are you going to need both indoor and outdoor cameras? Are there any weak points in your shop? Are there any darkened areas in your store? Are there any sections or aisles that are harder to spot than others? Do you want a camera that can tell you the volume of people visiting each part of your retail location (this is called heat mapping)? These are just a few of the questions you should ask when shopping for a retail security system.
Common Retail Crimes
Shoplifting and employee theft are constant threats to retail store owners. IP camera systems are a great way to reduce shoplifting and organized retail crime. Employees and shoplifters who are aware that the store has retail security cameras will be less likely to steal from or engage in illegal activities. With clear, vivid images that are easy to depict, retail security cameras can help you identify the criminal.
Shoplifting: According to the National Association for Shoplifting Prevention, each year more than $13 billion worth of goods is shoplifted from retail shops. This amounts to $35 million per day in lost revenue! We don't know of any better reason to get your retail security system in place. Loss prevention officers can find it difficult to catch veteran shoplifters. The best way to catch shoplifters is to install retail security cameras, rather than hiring security officers.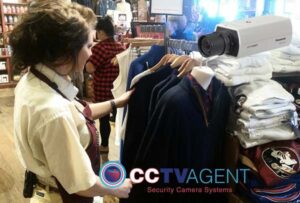 Employee theft: No employer can be certain that an employee will not steal, despite extensive background checks and interviews. You can easily spot theft cases by reviewing recorded video footage from your retail security cameras. This allows you to terminate the employee immediately and press charges.
Sweethearting: Retail employees may give unauthorized product discounts to friends and family by failing to scan or entering incorrect numbers. Management often overlooks sweethearting because employees have found discreet ways to sell discounted or even free products at the cash register. You can place cameras directly above the POS system to see employees on retail store security cameras so you can react immediately.
Flash Rob Theft. Flash theft is a new type of theft that is rapidly becoming a problem in major cities. Flash robbery is usually committed by a group of young people or adolescents who steal from stores. They also throw and break products and threaten customers and staff. These often violent robberies should not be attempted to be stopped by employees or store owners. However, retail security cameras can help law enforcement identify those involved and hold them accountable.
Organized retail crime: Large underground shoplifting rings are scattered across the United States. The ring members are known for walking casually into department and grocery stores and grabbing high-value items like Diapers, Razors, and Laundry Detergents. They then stuff them in carts and bags and run out of the store, where they are usually taken by a getaway driver. Although store owners and security personnel may not notice professional shoplifters until they see the missing merchandise, retail security systems can capture the thefts' movements in and out of the store. This allows police to identify and stop the rings.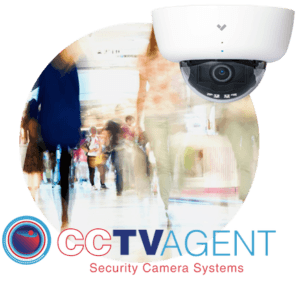 Return fraud: Criminal shoppers try to fraudulently return items not eligible for refund.  These shoppers often repeat their fraudulent activity.  Retail cameras with facial recognition technology can help you detect these repeat offenders when they first enter your retail location and allows you to stop this activity before it occurs.  In addition, you can also use License Plate Recognition cameras to capture the license plates of these individuals and detect when they first come into your parking lot. 
Heat mapping: In addition to crime and theft deterrence, retail security cameras can also provide you with useful data to show you which areas of your store shoppers are spending their time in.  Security cameras with heat mapping technology allow you to see the busiest parts of your retail location and which areas your customers spend the most time in. 
Call CCTV Agent today to learn more about protecting any type of retail environment inside and outside with retail security cameras. 877-523-2288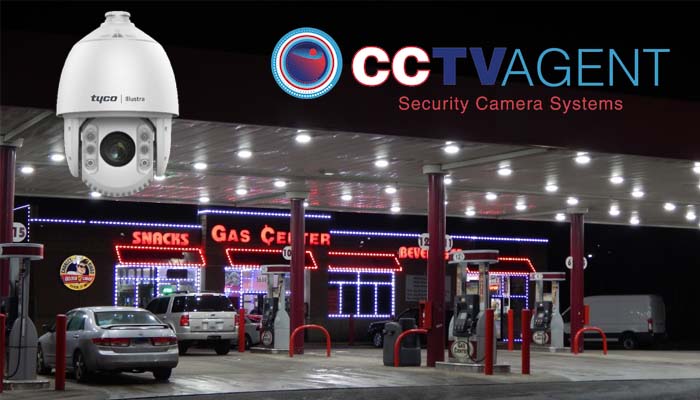 Fill out the form and will get in touch ASAP or call to speak with a security solutions expert!