Construction Site Security Cameras
Construction sites can face a unique range of security issues, including accidents, vandalism, and theft of raw materials such as lumber, steel, and copper pipes and wire. CCTV Agent believes in taking a proactive approach to managing the security of a construction site. We believe that installing a well-designed high-resolution security camera system will promote security for your various construction endeavors. Our security camera systems are the best in the business. The cameras are high resolution and weather-resistant, have infrared night illumination, and can be monitored remotely via any accessible device.
CCTV Agent utilizes a unique combination of tools to provide a custom construction site security camera system solution that's right for your security needs. We work to provide a cost-effective security solution for your business.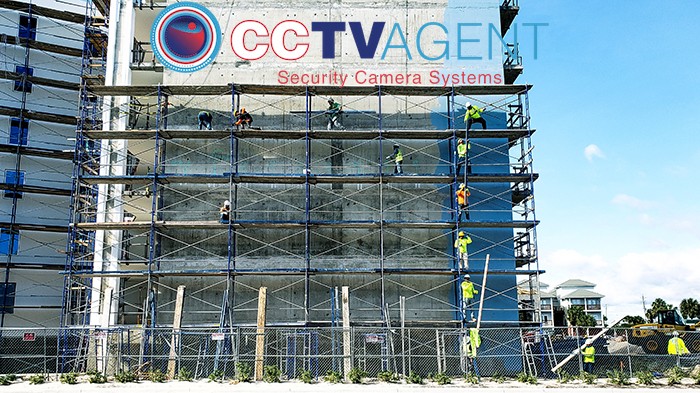 Here are some of the many benefits that a security camera system can provide for your construction site:
Reduce construction site theft

Keep out petty criminals and intruders

Affordably increase and supplement current security measures

Ensure a safe working space for employees

Monitor construction process to increase efficiency

Check up on your construction site remotely from your smartphone, tablet, or computer

Save money by preventing liability suits

Reduce liability from lawsuits and fraudulent claims

Increase responsible machinery and equipment usage

Increase adherence to safety policies

Reduce shrinkage and increase inventory control

Increase employee productivity

Increase workflow around the site

Document insurance claims

Reduce trespassing and vandalism

Eliminate employee theft
CCTV Agent is the leader in Security Camera Installation 
CCTV Agent has the years of knowledge and experience necessary to properly design a security camera system that meets your unique security requirements and greatly reduces the risks your business faces on a daily basis. Our IP-based high-resolution security camera systems provide the level of protection and high-quality output you need, accommodating the layout of your construction site and the needs of your business. We make sure you get the equipment you need, installed properly so that your surveillance system performs well to protect you and your bottom line.
Our service offerings span site security audits, camera recommendations, system configuration, installation support, network design, and more. A security camera system installed by CCTV Agent also comes with unparalleled customer service and technical support. Let us help you build a powerful security plan to thwart security challenges and help you become a more protected business.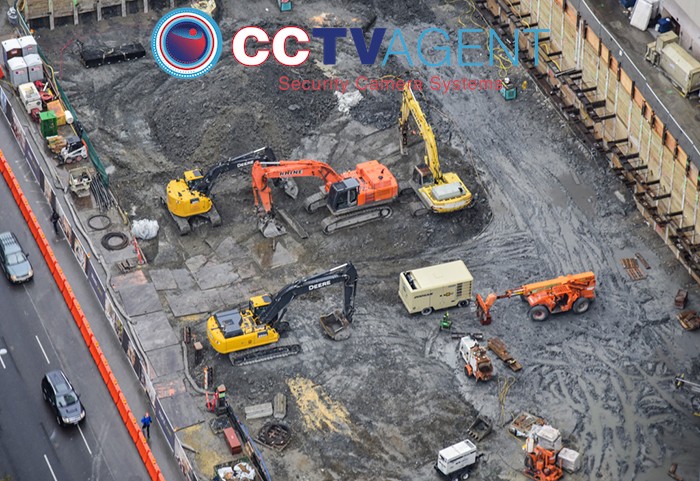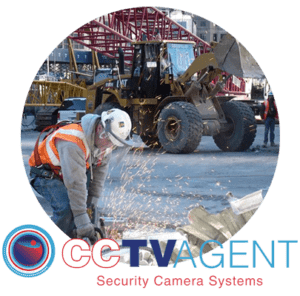 Construction Site Security Cameras, paired with live remote camera monitoring provides the ultimate layer of surveillance for construction sites. With remote camera monitoring, you can eliminate a wide array of safety and security challenges. Construction sites notoriously attract criminal activity due to the nature of having expensive and removable assets whether equipment, materials, or installed products. Monitoring vandalism, theft, and accidents 24/7 around the clock greatly reduces any liability. If you have any questions about construction site security cameras, contact CCTV Agent today. 877-523-2288
Construction equipment theft is so common that the NER (National Equipment Register), and NICB (National Insurance Crime Bureau) estimate that the amount of loss to developers and contractors is easily between $300m and $1b annually.
Protect Any Construction Site
CCTV Agent is a leading supplier of managed surveillance solutions for construction security cameras. We utilize the latest surveillance cameras that are backed by our US-based support team. This includes security camera installation, live remote camera monitoring, ongoing technical support, and maintenance.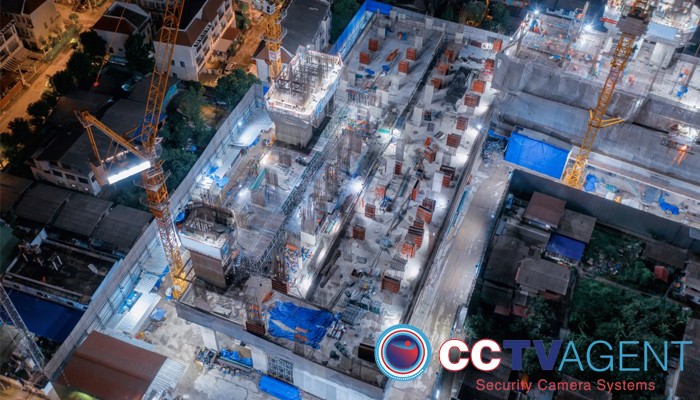 View Remotely with any smart device from anywhere in the world
Our surveillance experts are ready to deploy security measures immediately to help with protecting any construction site's assets. Almost everything we do today is becoming more and more connected to the internet, similarly so are some security cameras and surveillance solutions. Remote viewing permits you the ability to access your security camera feeds from any type of smart device. Using a laptop, computer, tablet, or smartphone that has an internet connection allows you to view footage in real-time from anywhere.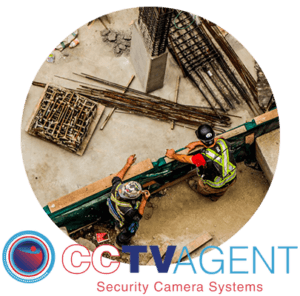 CCTV Agent delivers surveillance techniques that are up to seventy-five percent cheaper than using security guards. There is no compromise on results, reliability, or quality when coupling our security solutions. Smart Analytics combined with AI (artificial intelligence) allows for notifications to be sent in real-time to security personnel or law enforcement. Rapidly filter any footage from all of your security cameras by date and time, or with intelligent insights like vehicle make, license plate, facial recognition, clothing, and color.
CCTV Agent Construction Site Security Cameras with Solar
The CCTV Agent Solar security solution is powered autonomously when in isolated areas that don't have full power available, construction sites that need off-grid power or temporary solutions when you lose power in a hurricane or other events that cause power outages. These remote surveillance solutions also work with backup generator power too. 
With smart analytic and AI these security systems contain edge-based analytic features that allow you to provide demonstrated surveillance technology solutions that result in better detection, verification, and action on critical level events for past, current, and believe it or not future timelines.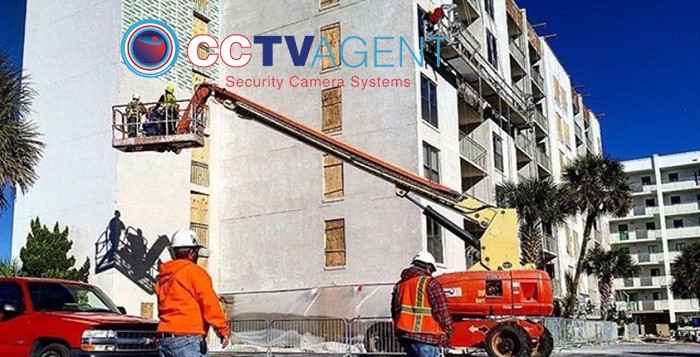 If you have any questions about construction site security cameras, contact CCTV Agent today. 877-523-2288
CCTV Agent is a leading provider of surveillance solutions located in West Palm Beach and serving all of South Florida. We provide the latest security solutions with IP security camera systems with USA-based premium support to our customers. We are recognized as the preeminent leaders in the surveillance camera industry, and our security products and installation service are second to none. Our in-house team of experienced and knowledgeable security engineers, customer service managers and technicians can custom design a security camera system to meet your desired needs and assist with achieving better peace of mind. We take pride in our service and support for a variety of industries verticals and businesses. CCTV Agent welcomes the opportunity to speak with you about your security camera installation needs.
At CCTV Agent, we only sell premium products and provide premium support to our customers. Our state-of-the-art IP security camera systems offer crystal-clear high-resolution images and have night vision with smart IR technology so that you will always have a window into your operations, day or night.  Our camera systems provide exceptional quality images and offer years of dependability. They are UL listed, waterproof and highly rated for outdoor or indoor use, and are durable enough to hold up in any demanding environment. Our software application is user-friendly and we provide excellent live customer support.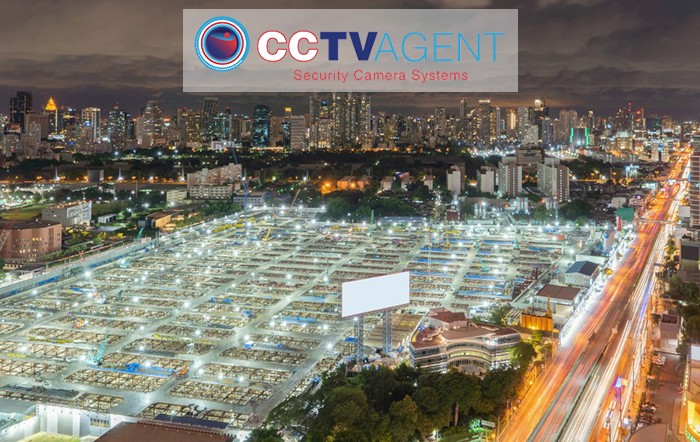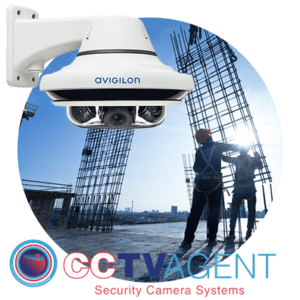 Construction Site Security Cameras | High Definition Live Video in Real-Time
Our systems can capture high-resolution images in real-time and offer advanced features like video analytics and 2-way voice that can be used to deter and detect intruders. Our central station monitoring service allows for real-time monitoring. This can be done either automatically, manually, or through our monitoring service. If you would like to learn more about Construction Site Security Cameras, call CCTV Agent today. 877-523-2288
Security Camera Storage With Embedded VMS (Video Management System)
Our solar-powered camera wireless systems often include embedded, fully functional video management software. If the embedded fanless industrial computer is used, video storage can be either on SD cards or SSD drives. This allows for a completely autonomous, stand-alone system. Learn more about Senstar VMS Software.
Embedded Video Analytics For A Smarter Camera System
Video analytics embedded at the camera level can identify people and vehicles. Analytics can filter through motion and events to detect only humans and vehicles.
Cellular Communications and Point-to-Point Wireless Communications
If high-speed internet is available locally, or cellular communications are available, solar-powered camera systems use a point-to-point wireless system.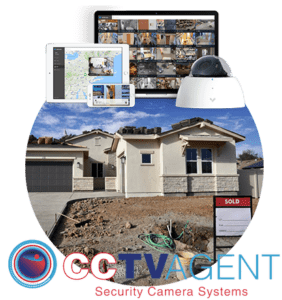 Operating Durability For Extreme Temperatures & Harsh Environments
Our systems can withstand extreme temperatures and harsh environments. The standard operating temperature range for certified systems is -22F to 140F, with the option of extended temperatures.
You Can Trust That Your Security Cameras Will Operate Around The Clock 24/7/365 At Any Project Location
Solar-powered security cameras are guaranteed to work at your location 24/7/365. To ensure reliability and cost-effectiveness, your solar power security solutions will be built to accommodate the surveillance systems' power requirements, duty cycle, and geographic location.
Effective Installation & Design
The solar electric power plant features an adjustable solar array, mounting brackets, and a prewired lockable enclosure with a battery bank. It also includes a charge controller, lightning protection, and circuit breakers to protect the solar, load, and battery banks. This includes power injectors and cables to connect to other devices and cameras as needed for locations where power supply is difficult to achieve.
Variable Surveillance Mounting Options
There are many options for mounting systems, including a pole-mounted, wall-mounted, roof-mounted tower, ground-mounted, skid-mounted, or trailer mounted. Mounts can be custom built/designed upon request. Installation is simple and requires no technical skills.
USA Based Technical Support
All system purchases include our technical support services. We are available to assist you with all aspects of setting up and maintaining your camera systems.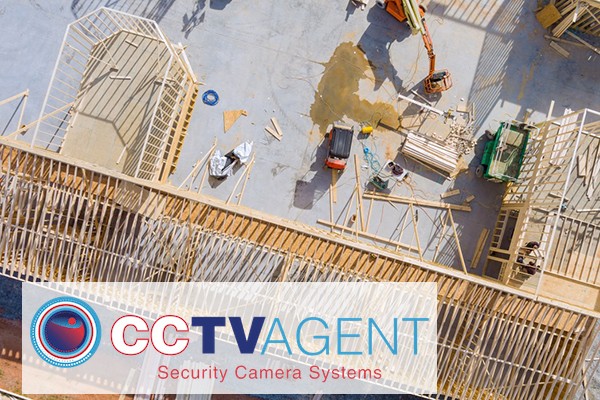 View Your Security Cameras Anytime, From Anywhere In The World
PC, iPhone, Android, and many other mobile devices allow you to view your camera system live or playback to view recorded images and videos. You and/or your remote camera monitoring company will immediately receive an email alert if the system detects intrusions. This will include a photo or video clip, as well as a description of the event. Active deterrence allows you to speak directly to the intruder or play a recorded message, sirens, turn on strobe lights, or white LED lights. If you would like to learn more about Construction Site Security Cameras, call CCTV Agent today. 877-523-2288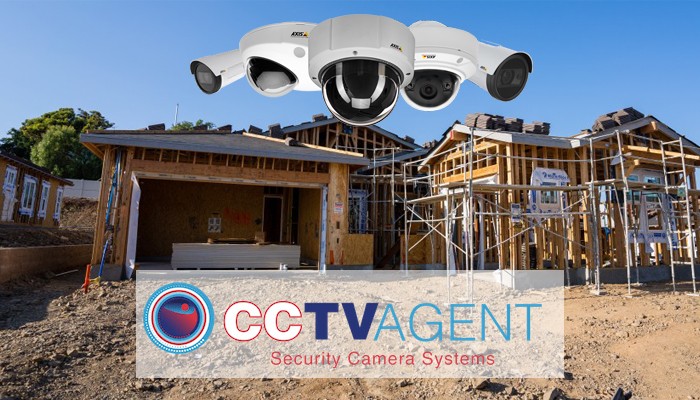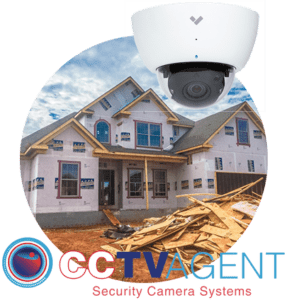 Construction security cameras for job sites are essential because thieves and criminals love to target construction sites. Thieves have plenty of opportunities to steal valuable materials, equipment, and appliances, often leaving them in plain sight and without the security features that are found in finished properties. This causes construction sites to develop delays and lose money. Construction sites are often left unsupervised overnight. This makes them prime targets for theft and vandalism, which can cause significant damage and put a project behind schedule. Monitoring construction sites with cameras can prove difficult because they often lack the infrastructure necessary for regular powered security systems and other preventative measures. Traditional security cameras cannot be used on construction sites without power or data connections. CCTV Agent can provide construction security cameras for construction sites that meet their needs without any need for infrastructure.
POWERFUL SECURITY OPTIONS
CCTV Agent offers cloud-based construction site surveillance cameras that can be used to monitor construction sites regardless of the weather conditions. Our construction camera solutions can be used to monitor remote sites and sites that don't have the infrastructure required for traditional cameras. Contractors can reap the benefits of solar-powered CCTV Agent construction cameras.
Solar-powered: Our security cameras can be placed almost anywhere when they are powered by solar. CCTV Agent solar-powered job site security cameras are able to operate continuously for overnight and weekend surveillance. 
Cloud-based: Our cloud-based construction security cameras use the mobile data network and PoE (Power Over Ethernet) to send images and videos to cloud servers. It means that there is no need for expensive data infrastructure to store construction time-lapse cameras and live video feeds. CCTV Agent makes it easy for construction companies to view videos and images whenever they want.
Live Remote Camera Monitoring: Traditional passive surveillance systems combined with remote monitoring, and physical onsite security guards provide the ultimate layer of protection. You can trust our remote camera monitoring solutions to watch any environment around the clock. There are many additional layers of security measures you can add to live video monitoring including onsite security personnel, perimeter security with advanced surveillance analytics, and smart learning AI (Artificial Intelligence).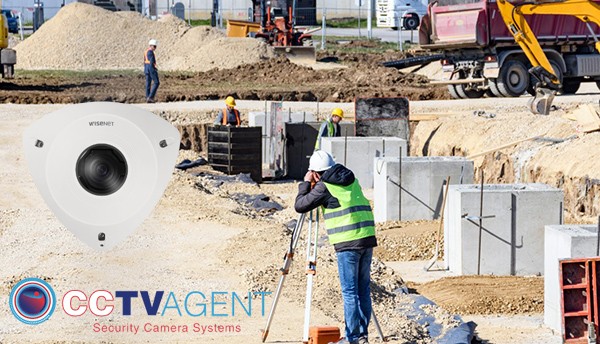 OBVIOUS BENEFITS
CCTV Agent cameras can provide security for construction companies in many ways. These are just a few reasons why CCTV Agent cameras make good sense to monitor construction sites.
Theft: Stolen materials can be costly for construction companies in time and money. However, remote cameras from CCTV Agent allow you to monitor unprotected areas and look out for thieves from onsite and offsite security personnel.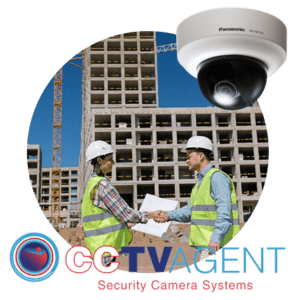 Safety: Exploring unmanned construction sites can prove extremely dangerous. CCTV Agent security cameras can be used to monitor construction sites and alert construction staff and security personnel when anyone is visiting during and after-hours. The cameras are equipped with night vision as well as advanced analytics to provide additional peace of mind.
Vandalism: Security cameras can act as a strong deterrent for anyone who wants to steal or cause havoc on a construction site. Around-the-clock job site security cameras can provide video evidence that could help law enforcement capture and prosecute those who have committed theft and vandalism at a construction site.
All kinds of illegal activities tend to find their way to target construction sites. They often don't have the infrastructure to install traditional security systems. Cloud-based security camera systems by CCTV Agent can prove to be a huge benefit for construction companies and general contractors. CCTV Agent also offers remote surveillance via trained security professionals. Contact us today for more information and a free quote to learn more about construction security cameras. 877-523-2288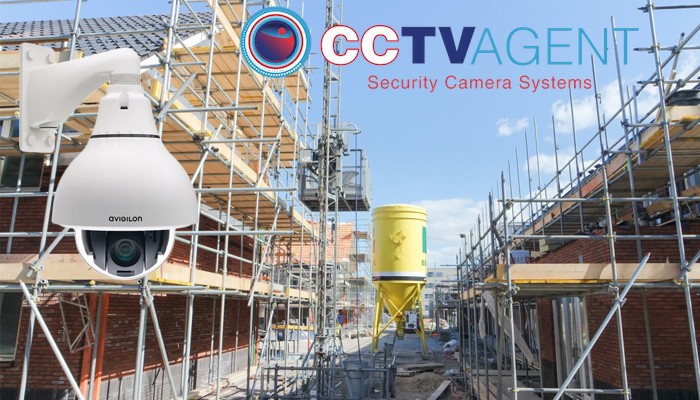 Fill out the form and will get in touch ASAP or call to speak with a construction site security cameras expert!