Church Security Cameras

Security. It's a word that can have many different meanings, but in today's day and age, it's one that is at the forefront of every person's mind. For houses of worship, including churches and synagogues, security is now more important than ever, as they are tasked with the mandate to provide security measures to their congregations so that their facilities can be the safe havens they are meant to be. The challenge for many congregations is to create a safety plan that is effective. This plan should include a high-resolution security camera system.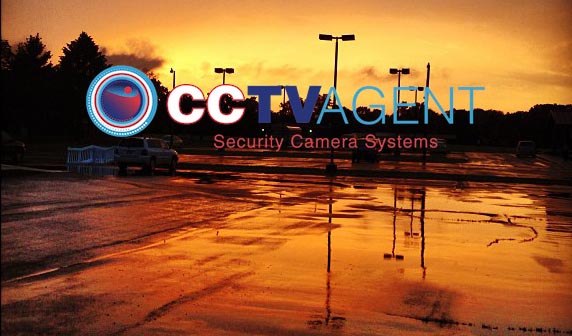 Security Camera Installation for Churches
Churches and other houses of worship are generally large public buildings with numerous doors and windows. Perpetrators often view most churches as an easy target because of the open and welcoming environment they foster, making them easy to get in and out of. They know that more than ever that church facilities contain large gatherings of people, as well as valuable, high-tech items such as musical instruments and multimedia equipment. Many churches even have a retail presence with valuable merchandise, and criminals know that many of these high-value assets often reside in a concentrated area.
State-of-the-Art IP Technology Security Camera Systems
At CCTV Agent, we only sell premium products and provide premium support to our customers. Our state-of-the-art IP technology security cameras are high-resolution and have night vision so that you will always have a window into your facility, day or night. Low-cost cameras are not rugged and often come with outdated software and low-quality images. Our camera systems are high resolution and provide exceptional quality images. They are waterproof and highly rated for outdoor or indoor use and are durable enough to hold up in any demanding environment.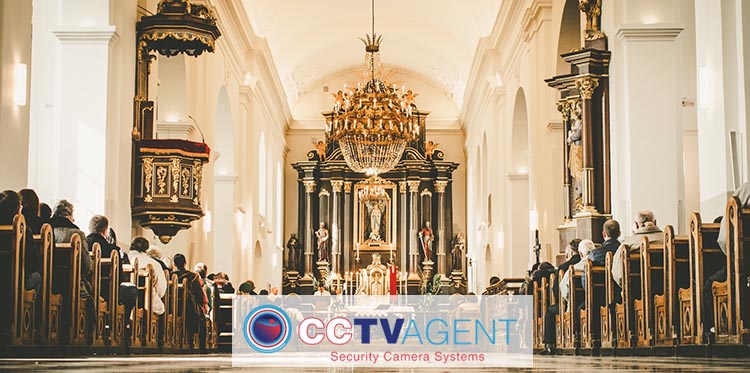 Some of the benefits that a security camera system can provide to houses of worship include:
Increases safety for parishioners and staff

Provides a 24/7 visual log of activity

Monitoring of parking lots, entrances, and exits

Surveillance for youth activities, young adult groups, sporting events, parties, and weddings on the property

Prevents intruders from gaining access to restricted areas

Deters vandalism and other criminal acts

Better crowd control at high-traffic events

Monitor the use of leased space to outside groups

Provides an effective tool for monitoring daily operations

Allows for remote monitoring from a smartphone, tablet, or computer

Prevents theft and vandalism

Reduces liability
Although many industries have similar needs when it comes to safety and security, CCTV Agent recognizes the importance of creating customized solutions for each of its customers. Additionally, CCTV Agent knows that understanding the environment where the solution will be used is crucial to ensuring that the solution has all the capabilities to meet the needs of the user. Our security camera systems for houses of worship are built with the unique needs of these organizations in mind. The system operation is efficient and straightforward. You can count on CCTV Agent to design and provide a security camera system that meets the needs of your congregation and provides you with greater peace of mind.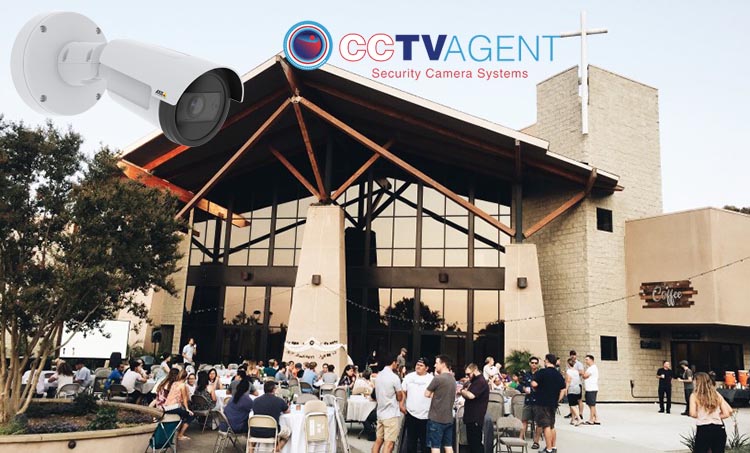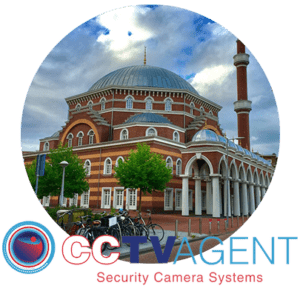 Church Security Cameras and Surveillance Systems
Churches and any type of place to worship are notoriously open for people to come and go as they please. Unfortunately, this welcoming environment can oftentimes lead to carelessness regarding security and surveillance issues. Churches and houses of worship are highly vulnerable to criminal activity like theft, vandalism, robbery, and in some cases assault. CCTV Agent can help any church by installing the best security camera system for their environment. This will assist with creating a secure and safer environment for congregations and those who attend any type of service or church activity.
Benefits of Church Security Cameras
IP (Internet Protocol) security cameras have made installing security cameras more affordable than ever before. Older surveillance systems used analog security cameras which employ coaxial cable and required more effort to get power to them. With IP security cameras you have the ability to use PoE (Power over Ethernet) and even cloud-based solutions that allow you to mount more security cameras to provide complete coverage throughout any property inside and outside.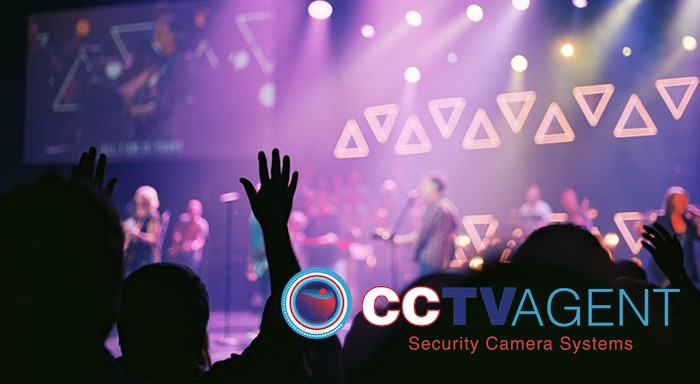 Prevention of criminal activity · Installing cameras outdoors at your entrances, exits, perimeter security, and parking areas has proven to deter crime in and around churches.
High-resolution surveillance images · Having hi-res IP security cameras that can be viewed in real-time by any staff members allows your church to provide a safer environment for anyone visiting church grounds at all times.
View surveillance footage anytime · With NVRs (network video recorders) that have apps you can view your surveillance footage from any type of smart device, PC, tablet, or smartphone.
Alternatives for church attendance & viewership · Recently, attending church has become somewhat of a challenge. With young, sick, and elderly members in any congregation that cannot attend services as regularly as they used to, CCTV Agent offers solutions that allow anyone to view from the comfort of their own home. We can give you the ability to broadcast any church service or activity via the internet for those who cannot attend in person.
Exposure of Security Cameras in Church Environments
CCTV Agent offers the latest in vandal-proof security cameras when someone tries and disconnects or destroys surveillance cameras in order to hide their identity before a crime is committed.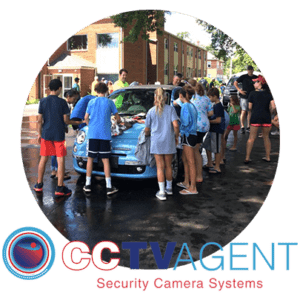 Proven Outside Security Equipment · Inclement weather via severe rain, high wind gusts, storms, and other outdoor hazards can cause damage to your surveillance equipment and prevent it from recording.
Proper Configuration of CCTV Security Systems in Churches
Mosques, Synagogues, and Churches along with other worship environments face a variety of factors when it comes to protecting their congregation and everyday activities. Each of the following criteria must be considered when selecting the right surveillance solution.
Do you lease church facilities for other groups?

Do you host sports leagues, youth events, parties, and weddings on-site?

What kind of theft or vandalism problems have you had in the past?

How much involvement does the surrounding neighborhood have within your congregation?

Are there problems with crimes like theft and vandalism in your neighborhood?

Do you have one building with just a couple of rooms or several buildings with classrooms, offices, and a library?

Have you ever wished that you could have recorded an incident on camera?

How big is your church?

What do you consider to be your most important security issues?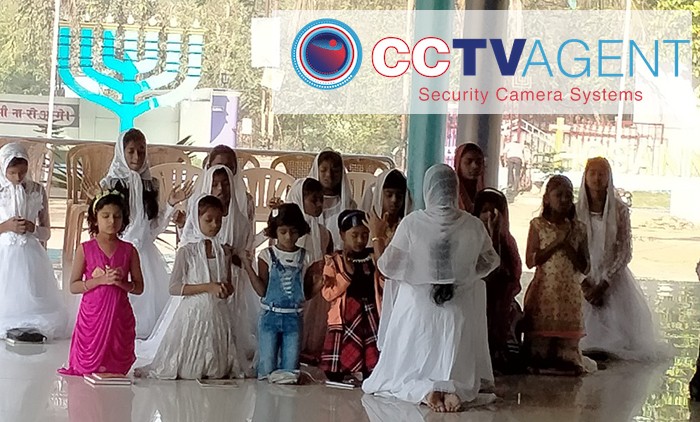 Recommended Surveillance Solutions for Church Security Cameras
The best areas to place security cameras are in open environments like church pews, offices, Sunday school, daycare, lobbies, cafeterias, classrooms, and other common areas. Exterior cameras along the perimeter and in the parking lot greatly reduce criminal activity like vandalism and theft to church members and their cars during service or other activities.
Perimeter Security Solutions
During the last few years, surveillance systems for communities and residential use have greatly increased their efficiency and capacity for monitoring larger environments. The peculiar part is at the same time the price for security cameras and surveillance solutions has greatly decreased. Think VCRs and Microwaves from the early 80s that easily came with large price tags, you can now get these same items for a reasonable price. The same benefit is now being enjoyed by the security industry for consumers and distributors.
Security and surveillance technology continues to advance at a rate that hasn't been seen before. It has never been easier to protect areas of all sizes, from a room in your church to full coverage for a parking lot or open area. 
If you have any questions about Church Security Cameras, call CCTV Agent today.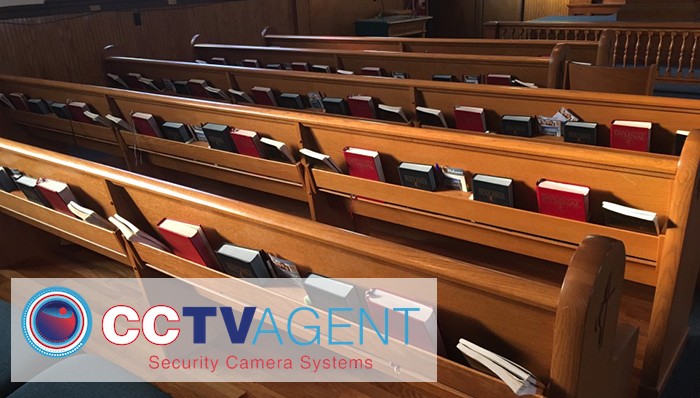 Fill out the form and will get in touch ASAP or call to speak with a security solutions expert!