Surveillance Cameras Help Protect Catering Halls
A security camera system is a powerful and essential tool for managing your operation. From office employees, wait staff,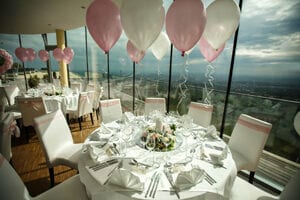 kitchen staff, delivery drivers to potential clients, catering halls and banquet halls see steady traffic all throughout the week and even more on weekends. The high turnover of people presents a challenge for owners and managers when it comes to monitoring those passing through their premises, as there are many places you need to keep a watchful eye on for safety and liability.
The liquor storage room, walk-in box refrigerators, offices with safes and cash registers are just a few high-risk areas for theft. Beyond that, catering halls and banquet halls often require monitoring of areas like the hostess stand, entrances and exits, delivery entrances, kitchen, lounge areas, parking lots and the valet drop off and pick up area. This exhaustive list exemplifies the importance of having a well-designed security camera system.
Security Cameras for Catering Halls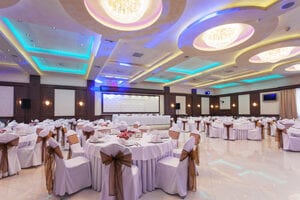 Catering and banquet halls face their own special set of challenges due to the high volume of people passing through on a weekly basis. Celebrations for weddings, anniversaries, quinceañeras, Sweet 16s, Bar and Bat Mitzvahs are more prevalent than ever. As a business owner, you need to protect yourself from potential theft, ensure customer service is being performed at the level you require and safeguard yourself from any false insurance claims; all of this while ensuring that your facility is a safe and welcoming place for people to gather.
Liability Protection with Security Cameras
Furthermore, catering hall and banquet hall business owners need to protect themselves from insurance liabilities in the event of an accident involving a staff member, vendor or guest, and they also need to protect their assets and ensure food, liquor or any other valuable assets aren't stolen or taken off premises. Slips and falls on the dance floor by a guest, or a slip in the kitchen by an employee require video footage in order to identify fault for potential insurance claims, as well as to weed out any fraudulent claims. Prevention is far more cost effective and the best way to safeguard your business and establishment and surveillance cameras can help. 
Custom Designed Security Camera System
CCTV Agent has the years of knowledge and experience necessary to properly design a security camera system that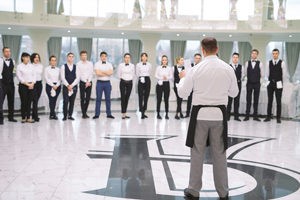 meets your unique security requirements and that can greatly reduce the risks you face on a daily basis. Our IP based high-resolution security camera systems provide the level of protection and high-quality output you need, accommodating the layout of your property and the needs of your business. We make sure you get the equipment you need, installed properly, so that your surveillance system performs well to protect you and your bottom line.
Our service offerings span site security audits, camera recommendations, system configuration, installation support, network design, and more. A security camera system installed by CCTV Agent also comes with unparalleled customer service and technical support. Let us help you build a powerful security plan to thwart security challenges and help you become a more protected business.