Security Cameras for Senior Living Facilities
Security Cameras for Senior Living Facilities
Security cameras in an elder care or assisted living facility are a great way to put patients and patients' loved ones at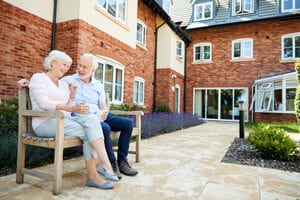 ease. Patient care is the main concern of an elder care or nursing home facility, and this can be greatly enhanced with a security camera system tailored especially for your facility's needs.
Caring for others can be the ultimate rewarding experience however there is also a great amount of risk involved. Patients can sometimes get into situations which may threaten your liability. Protecting yourself against liability can be easily achieved by installing a high-resolution security camera system in order to monitor and record activity.
Security Cameras are the Best Way to Monitor Seniors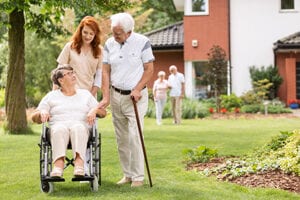 Security camera systems are a great way to protect an elder care facility or nursing home. The number of retirees living in group or nursing homes has been rising consistently for several years. High demand and large numbers of elderly or impaired people living in groups makes security a top priority. A security camera system is an easy and effective way to keep your residents and staff safe from theft, vandalism and unwanted intruders.
Making sure that your patients are taken care of and comfortable is always essential. With a security camera system, it is easy to monitor patient activity and ensure that they are always getting nothing but top-notch care. A camera system is also a great way to correct employee behavior if necessary and make sure that patients are satisfied with their level of care.
Security Camera Systems for Assisted Living Facilities 
A security camera system in your elder care or nursing home facility will help in identifying unauthorized visits and will help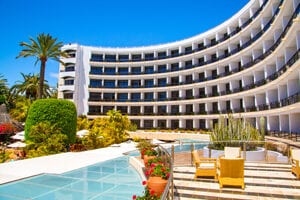 ensure that employees properly follow all health and safety procedures. Additionally, a camera system will help monitor access to sensitive areas like document, medical device and medication storage areas.
Protect residents and employees – Cameras recording entrances and exits can help protect your staff and patients from unwanted intruders. In secured environments like memory care facilities, indoor cameras placed near exits can help you prevent confused residents from wandering outdoors unsupervised. 
Secure your building – Outdoor cameras in parking lots and open spaces can dissuade thieves from breaking into cars or loitering on your property. 
Remote broadcasting – NVRs (network video recorders) enable you to broadcast your security footage over the internet and check it from any accessible device (including cell phones). This is especially handy if you manage multiple care facilities or have a particularly large facility – you can make sure all your buildings or locations are safe without having to be in multiple places at once. 
Quality images – CCTV Agent offers high-resolution IP video cameras.  IP video cameras provide superior quality footage in comparison to analog systems, making it easier to quickly identify who is in your security camera's field of vision.
CCTV Agent is a Leader in Security Camera Installation and Service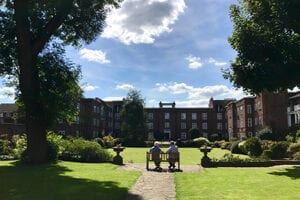 At CCTV Agent, we only sell premium surveillance cameras and equipment and provide premium support to our customers. Our IP based security cameras have high resolution and have night vision so that you will always have a window into your operations, day or night. Low cost cameras are not rugged and often come with outdated software and low-quality images. Our camera systems provide exceptional quality images. They are waterproof and highly rated for outdoor or indoor use and are durable enough to hold up in any demanding environment.
Our software application is user friendly and we provide excellent live customer support.
Some of the benefits that a security camera system can provide to your nursing home or elderly care facility include:
Keeping patients' records and identities safe

Ensures staff are meeting health and safety standards

Allows for remote monitoring from a smartphone, tablet or computer

Increases safety for patients and staff

Monitor public areas like nursing stations, dining halls and parking lots

Prevents intruders from gaining access to restricted areas

Deters vandalism and other criminal acts

Provides effective tool for monitoring daily operations

Increases quality of patient care

Prevents theft

Deters dishonest employees from engaging in criminal activity

Reduces business liability from frivolous lawsuits
We have the Experience and the Know-How
CCTV Agent possesses the know-how and skill set to deliver a dependable camera system to elder care facilities and nursing homes. We are well versed in the day-to-day security threats faced by these facilities and have the experience to design solutions to monitor threats like theft, vandalism, crime, and more while also ensuring patient, employee and visitor safety.
What's in it for you?
The 5 Advantages of CCTV Agent are:
Deal directly with Knowledgeable Salespeople
Many salespeople use high pressure tactics to close a sale.

We believe in serving a potential client, not closing a sale.

Our team has extensive knowledge in the security field.

They will assess your needs and present you with a solution that is right for you.

We do not sell packages that are a one size fits all.
The one thing we have learned by assessing hundreds of businesses over the years is that there are no two businesses alike. What we sell is system solutions.
Our Technicians are our Employees
Our technicians work for us as employees, not subcontractors.

Our technicians care about every job they install.

They have exceptional installation and customer service skills.

They all have years of experience and are highly qualified.

They receive continuous hands on training.

They can communicate with you intelligently.

They are committed to exceeding our client's expectations and providing complete satisfaction.
Technical Support
We offer technical support packages for the life of your system.

Over 80% of issues are resolved online remotely with no cost or interruption to your busy schedule.

We provide you with peace of mind by taking the upkeep of your system out of your hands.
No Subcontractors
Subcontractors don't work for the company that sold you your security system in the first place.

Subcontractors get paid in most cases when the job is completed.

The more jobs subcontractors complete in the least amount of time, translates to more money for them.

Subcontractors look at customers as just another job to complete and they never have to go back to that customer.

Once the job is completed and they get paid, the customer is no longer their concern.

CCTV Agent does not use subcontractors. Our team designs and installs your system and we will stay with you for the life of your system.
Easy to use Security Camera Systems
One complaint that we frequently hear from prospective customers is that their current system is very difficult to use. Our systems are user friendly and can be learned in just a few minutes.
At CCTV Agent, we provide a generous suite of services to our customers. We provide an extensive site security audit, camera location evaluation, configuration and installation support, and virtual integration to deliver the best results. Count on us to meet the unique security needs of your elder care or nursing home facility.