Security Cameras for Housing Authorities
State-of-the-Art CCTV Cameras for Housing Authorities
Housing Authorities can provide added security to the residents by installing state-of-the-art CCTV cameras throughout the community. CCTV Agent's system engineers are certified professionals for Wireless Camera Networks and have designed many surveillance camera systems for the Housing Authority of Fort Lauderdale, Broward County Housing Authority, Palm Beach County Housing Authority, and many others.
Reduce Crime with Surveillance Cameras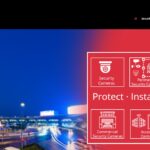 We'll help reduce crime and drug traffic in your community by working with your property management to design a video surveillance system that focuses on the areas most in need.  Our systems can be monitored by
onsite security personnel or by local law enforcement officers on their in-car laptops.  Learn more about our IP-based wireless camera networks by contacting our sales staff today.