Security Cameras for Apartment Complexes and Condos
Video Surveillance for Multi-Family
Apartment Buildings and Condominiums must have a video surveillance system to protect the owners, tenants, and residents, from theft and other crime as well as liability claims.  CCTV Agent provides free site-surveys to engineer a custom camera surveillance system for your entire property, both inside and out.  We offer both wired and wireless camera systems for those difficult areas and will install poles for the cameras and RF radios where needed. 
Security Cameras for Elevators and Clubhouses
We can even install security cameras in your elevators, stairwells, and parking garages.  Your clubhouse, pool,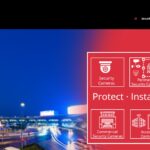 and cabana areas should also be covered with a security camera system.  If you have a security staff or a security desk, we can build a custom Central Monitor Station to suit your needs.  Security personnel can control your pan-tilt-zoom cameras (PTZ) throughout the property or we can set them on a programmed tour.