Security Cameras for Auto Dealerships
Car Dealership Security Cameras
Car Dealerships should have the entire property under video surveillance to protect them from theft, liability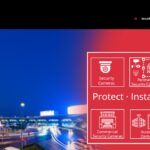 claims, provide better customer service, and improve employee productivity.  Let CCTV Agent design a custom security camera system to provide you with the coverage you need to secure and manage your dealership. 
Custom Security Camera Monitoring
We can set up wireless pan-tilt-zoom cameras in your car lots and various fixed cameras throughout the showroom and service areas.  If you have multiple locations, CCTV Agent can install a display wall allowing you to monitor all of your operations from one location.